« Full Note Now Displayed on Time Clock Screen | Main | New Website Page Added »
June 7, 2011
I've just uploaded a new feature to Online Time Clock MTS that will allow your time clock security level accounts to login without the need for a password from a single link. You can read more about it in the Single Click Secure Login help topic but in the interests of getting up and running quickly I'll give quick run through on the process here.
1. Login to Online Time Clock MTS as the account administrator or a location administrator.
2. Navigate to the Manage Logins screen.
3. Next to your time clock security level logins there is a new link called Secure Login. Click this link.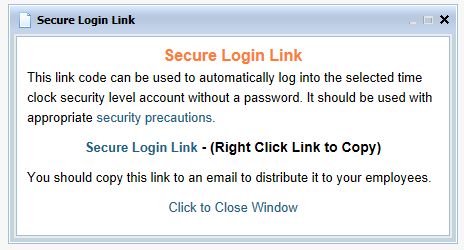 The Single Click Secure Login Link Screen
4. You'll be shown the screen above. Right click on the Secure Login Link link and copy the link (which might be done via a right click menu option like Copy Shortcut, or Copy Link Location, or Copy Link Address).
5. Paste the link address somewhere for distribution. This could be into an email, to your desktop to create a shortcut that could then be emailed, or perhaps you could save it to your bookmarks. Other options might include putting the link on your company intranet or distributing it via SMS to your employees with smartphones.
6. Make sure to take all of the suggested precautions in the Single Click Secure Login help topic before you make use of this feature.
I'll be writing some more detailed tutorials on making use of this new feature in the coming days. This will include the process for emailing the link to others and the process for creating a desktop shortcut that can be clicked. Until then if you have any questions please don't hesitate to contact us.
Posted by markn at June 7, 2011 1:03 PM