« Downtime 15 November 2015 - Complete! | Main | GeoLocation and GeoFencing »
November 16, 2015
After quite a bit of effort we've launched the Mobile Device Interface of Online Time Clock MTS today. This new set of screens is designed to be used by employees who need to punch in and out using a mobile device such as a smartphone, tablet, or cellphone. Each employee must be set up to access the Mobile Device Interface and once they have they can punch themselves in or out, view their own time card, or view a history of their own time punches.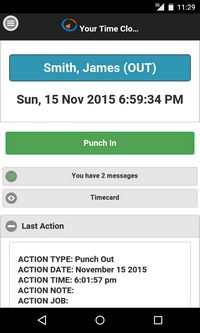 If you allow your employees to use the mobile interface each will have their own separate log in (their email address) and password. Once they are logged in they can only view their own time card information and punch themselves in or out. This is different to the desktop interface of Online Time Clock MTS which allows groups of employees to use the same login to punch in and out from a common time clock screen.
The mobile interface still allows you to track and record employee notes and time spent working on jobs. It doesn't require the employee to enter their PIN when punch in or out, and it also doesn't subject employees to IP Address access restrictions. Longer term we'll be adding geographical access restrictions to employees who use the mobile interface as well as logging latitude and longitude so you can see where they've been punching in and out from.
Other Changes
There have been a raft of other changes made to the system today. These have included various tweaks, updating of a lot of the back-end database code for improved performance, and some fixes to problems with the messaging system that were only seen on Internet Explorer. You'll also note that various reports might have the letter M in brackets after time punches ((M)) which indicates that time punch was made from the mobile interface.
Posted by markn at November 16, 2015 11:56 AM