« January 2014 | Main | July 2014 »
May 27, 2014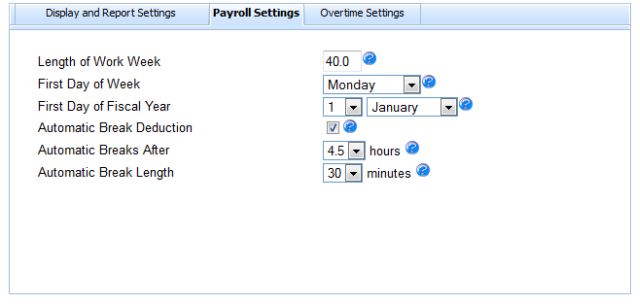 Automatic Employee Break Settings
The next release of Online Time Clock MTS will include a simple system for automatically applied employee breaks. Breaks can be applied when the duration of a time punch exceeds a set limit. The length of the break is also configurable. By default the automatic break feature will be turned off. There is an additional setting for each employee to flag whether they get automatic breaks or not. This setting is also off by default. Automatic breaks ONLY apply to time punches classified as NORMAL time. Time punches classified as SICK, VACATION, PTO, or OTHER will not have breaks deducted.
Note: Automatic breaks will not appear on reports at additional time punches. They will appear as adjusted durations on reports. So take for example the case where the limit for applying automatic breaks is 4 hours and the break length is set to 30 minutes. A time punch classified as NORMAL for an employee with a punch in at 9:00:00AM and a punch out at 5:00:00AM will be displayed on reports as having a duration of 7.5 hours.
Posted by markn at 10:47 AM
---
May 13, 2014
We're currently working on a significant update to Online Time Clock MTS and as new features are completed in our test environment I'll be posting about them here on the blog. There are two new reports in the next release and another report is now available for employees.
The Working Hours Report
This useful report breaks down the hours worked for each day into classifications such as normal hours, daily overtime 1, daily overtime 2, and weekly overtime. The hours are totaled by employee for the report period too.
Actual vs Rounded Time Report
This one lists each time punch pair during the report period and compares the rounded value of the time against the raw value that was recorded by the time clock. This report is only available from the Payroll Reports screen if report time rounding is turned on.
Punchcard Report with Notes Available to Employees
When employees choose to view their timecard there's a new checkbox available to Show Notes. When checked this will display the Punchcard with Notes report instead of just the punchcard report. Of course you'll have to check the Employees Can View Timecard checkbox on the Display and Report Settings screen to use this new feature.
Posted by markn at 8:20 AM
---