« May 2011 | Main | July 2011 »
June 17, 2011
One of the more common questions I've got in the last few months is from people wondering exactly how Online Time Clock MTS handles payroll time rounding. So here's a quick run through on time rounding in Online Time Clock MTS.
Turning Time Rounding On
Time rounding is turned on by the Online Time Clock MTS account administrator on the Tools->Time Clock Options->Display and Report Settings page. Select a value from the Time Rounding drop down box of 6, 15, or 30 minutes. If you do not want to use report time rounding then leave the selection at None.
How Exactly Does the Rounding Work?
If you've got Time Rounding turned on then Online Time Clock MTS will round times at report time only. These rounded values will be used to calculate all time totals and payroll figures at report time too.
The rounding method used by Online Time Clock MTS is just normal arithmetic rounding. Let's consider an example where the time rounding interval is set to 15 minutes and your typical employee clock in time is 8:30:00AM. Any clock in before 8:37:30AM will be rounded down to 8:30:00AM. Any clock in on or after 8:37:30AM will be rounded up to 8:45:00AM.
Does Rounding Affect the Stored Time Data
No it most definitely does not. Rounding calculations are applied at report time only. The actual raw clock in and out times are still stored by Online Time Clock MTS accurate to the second that they were initially recorded. If you wanted to check this you could just turn off time rounding temporarily and run your reports and you'll see all of the un-rounded data in the report.
Why Time Rounding Might Be Used
The first and most obvious reason is that Time Rounding just makes things simpler and easier to understand. Time Rounding could also be used in your workplace to comply with either your particular workplace payroll rules or perhaps to adhere to government payroll regulations. It might be used to implement a minimum overtime rule and prevent employees accumulating tiny amounts of overtime by clocking in fractionally too early or clocking out a little too late. It also gives your workplace some flexibility with clock in times, if you've got multiple employees they obviously cannot all clock in at once nor can the punch out all at the same time. Some localities allow for this sort of rounding in the work place.
A Warning
Payroll rounding should always be used with caution and you should check with your local regulators to make sure that it is legal.
Posted by markn at 11:04 AM
---
We've just posted up a new page to the website, it's all about using Online Time Clock MTS as your Online Time Card Software solution. There's a lot of reasons to move from paper based timesheet or time card systems to software based systems, and there's just as many reasons to move to a 100% web-based time card solution. Hopefully this new page elaborates on a few of them for you!
Posted by markn at 11:01 AM
---
June 7, 2011
I've just uploaded a new feature to Online Time Clock MTS that will allow your time clock security level accounts to login without the need for a password from a single link. You can read more about it in the Single Click Secure Login help topic but in the interests of getting up and running quickly I'll give quick run through on the process here.
1. Login to Online Time Clock MTS as the account administrator or a location administrator.
2. Navigate to the Manage Logins screen.
3. Next to your time clock security level logins there is a new link called Secure Login. Click this link.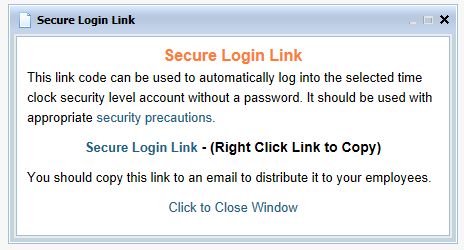 The Single Click Secure Login Link Screen
4. You'll be shown the screen above. Right click on the Secure Login Link link and copy the link (which might be done via a right click menu option like Copy Shortcut, or Copy Link Location, or Copy Link Address).
5. Paste the link address somewhere for distribution. This could be into an email, to your desktop to create a shortcut that could then be emailed, or perhaps you could save it to your bookmarks. Other options might include putting the link on your company intranet or distributing it via SMS to your employees with smartphones.
6. Make sure to take all of the suggested precautions in the Single Click Secure Login help topic before you make use of this feature.
I'll be writing some more detailed tutorials on making use of this new feature in the coming days. This will include the process for emailing the link to others and the process for creating a desktop shortcut that can be clicked. Until then if you have any questions please don't hesitate to contact us.
Posted by markn at 1:03 PM
---
June 6, 2011
A small update has just been posted to Online Time Clock MTS that allows users to view the full note entered when clocking in or out. Previously, just the first 50 characters of a long note were displayed. Now, when a long note is displayed a link ....Full Note is put at the end of the first 40 characters of the note and if you hover your mouse over this link the full note text will be displayed in a popup.
Thanks to the several users who suggested this improvement to me via the feedback tab from within Online Time Clock MTS.
Posted by markn at 10:38 AM
---
June 3, 2011
Often the focus of many web based applications like Online Time Clock MTS are the advantages gained in data collection. One area that is often not highlighted are the benefits realized in the management and control of a business using a well designed web based application. Obviously, one of the areas that Online Time Clock MTS excels in is that of Web Based Time Reporting. Let's look at some of the other areas that users of our system will see benefits in:
The immediacy and availability of reports an information from your desktop and the resultant improvement in business control that this will offer.
Web based time reports will be available to all of your supervisors at any time. There's no longer a need to wait for weekly or daily reports to be printed and made available, your managers can get the information they need when they need it.
Employees will be more content due to a more transparent and open time keeping process. They can view their own timecards whenever they like to know what is really going on.
Your payroll staff will see immediate efficiency gains through automated and centralized data collection. They'll also make less errors as all the hard calculations will be carried out for them.
If you're looking for a web based time keeping system (that includes web based time reporting) then Online Time Clock MTS will deliver all these benefits and more. Setting up a free 30 day trial account just takes a minute or two and there's no need for a credit card number until such a time as you decided you want to subscribe. So no need to cancel a subscription for something you don't want or need. And, of course, as a subscriber you'll have the chance to have a say in how Online Time Clock MTS works and gain access to all the new features it has as it is developed and improved.
Posted by markn at 9:19 AM
---
June 2, 2011
Online Time Clock MTS offers companies the chance to move their employee time and attendance tracking away from paper timesheets, away from mechanical punchclocks, and away from hard to maintain installable software. It offers companies the chance to track employee time and attendance data in a 100% online environment. The advantages of an online timecard system over a manual time clock or paper based timesheets are many. Here's just a few:
Online timecards are available to your employees on any computer or device with an internet connection and a web browser.
An online timecard system is much more secure than installable software. There's no local database for savvy employees to try to manipulate and no computer system clock to change.
A 100% online time clock system doesn't need maintenance, it isn't effected by the latest operating system updates, and it doesn't need you to install anything.
An online timecard system can be used by your employees regardless of their geographical location and yet their data can be reported on centrally in just seconds.
An automated web based time clock system handles all of the time card tallying, overtime calculations, and accrual values for you. You'll save your payroll staff real time and lower your overheads immediately.
Online Time Clock MTS has all of these advantages and more. You can setup an account very quickly and try it for free for 30 days without obligation. No need to enter a credit card until you decide you want to keep using it. As a subscriber you'll have a say on the future directions of our online timecard system and always have access to the latest features and benefits that Online Time Clock MTS offers.
Posted by markn at 7:00 AM
---
June 1, 2011
I am happy to announce a minor (but much requested) feature addition to Online Time Clock MTS. The "View Timecard" button on the main time clock screen now allows date selection allowing employees to view their timecard from any date range. Previously it only displayed the preceding two weeks information. This is especially useful to allow your employees to view their timecards for a given pay period or perhaps to allow them to view their historical information. You can see the date selection screen above. It uses the same popup calendars you've seen before on the payroll reports screen and the employee maintenance screens.
As an aside this update has also allowed me to fix a problem with the popup calendars sometimes appearing behind certain windows. The circumstances that caused this error were fairly obscure and very few users would have seen it, but rest assured you wont see it anymore!
Posted by markn at 6:52 PM
---