April 24, 2010
A location is used to define each physical location that you plan to have your employees clocking in and out from. So, if you're a retailer and have multiple stores then you might define one location for each store to track your time and attendance in more detail. One of the most powerful things about locations is that each location can have a different time zone. This is extremely useful because each of your geographically separate operations can use Online Time Clock MTS to track your employee's time and attendance data regardless of what region or even country they are in. The timezone setting for each location is used to determine the local time when an employee clocks in or out. There's no reliance on your web browser, your computer, or anything else for precise times. They are 100% accurate and tamper proof obtained directly from the Online Time Clock MTS webserver. Time clock fraud is a thing of the past.
Something to bear in mind is that when Online Time Clock MTS becomes a commercial product then there will be an additional charge for each location after the first one that you want to use. Of course, you can just use a single location and Online Time Clock MTS wont bother you with anything about locations after you first configure your Online Time Clock MTS account.
Posted by markn at 8:52 AM
---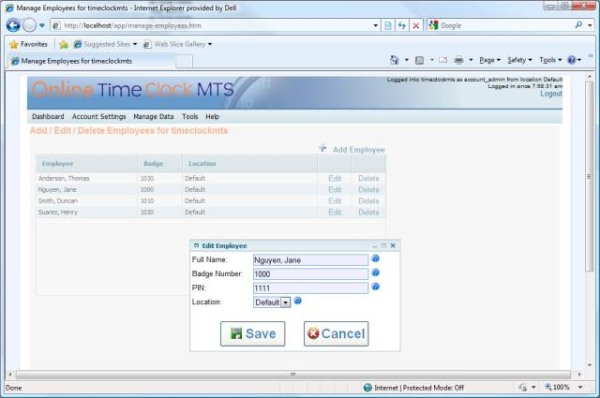 The Edit Employees Screen
The edit employees screen of Online Time Clock MTS (shown above) will be used by the account administrator to manage the employees for a given location. The list of employees is displayed in what should be a familiar list format, the list is fully interactive and can be sorted alphabetically by clicking on the appropriate column headings. New employees can be added by clicking on the Add Employee Link, while existing employees can be edited by clicking on the appropriate Edit link or deleted by clicking on the Delete link.
When editing, adding, or deleting an employee all interaction is done via very easy to use popup windows, one of which is shown in the screen shot above. Help for each field on each screen is available by simply hovering your mouse over the small question marks next to each field. For the free BETA of Online Time Clock MTS there will only be a small amount of data required to create and track employees but as time goes by the data required will increase as the functionality of the system increases.
Posted by markn at 8:41 AM
---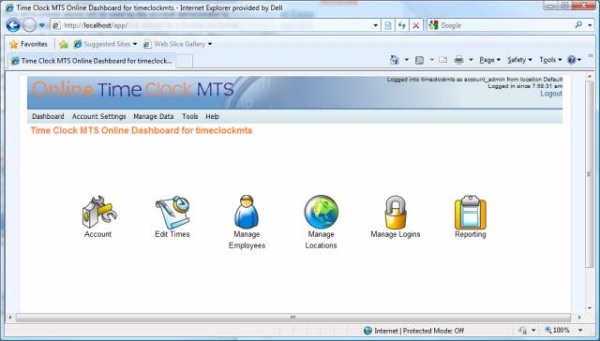 The Administrator Dashboard
You can see above a screenshot of the Online Time Clock MTS Dashboard. This screen is intended to be the central hub of information and navigation for Online Time Clock MTS users. Each available navigation option is shown as a clickable icon and is also available in a user friendly drop-down menu menu system for those more used to using the desktop version of Time Clock MTS.
Here's some important things to note about the dashboard of Online Time Clock MTS:
The navigation options are tailored to the security level of the user that is logged in. So, for example, the account administrator login will be presented with all navigation options, while a reporting login will only presented with reporting options, and a standard time clock user will only be presented with the actual time clock to record their time and attendance information.
The system is designed to be viewable and usable on computers with a screen width of just 1024 pixels which means it should be able to be used on older or very in-expensive computers (such as a netbook for example).
Posted by markn at 8:34 AM
---
April 13, 2010
Welcome to the Online Time Clock MTS weblog. This is where we'll keep you updated on the progress of the development of Online Time Clock MTS and where you can find out when the free BETA program will commence. Once that's happened it's where we'll let you know about new features, fixed bugs and tips on using the system.
What is Online Time Clock MTS?
Online Time Clock MTS is the online version of the successful Time Clock MTS which is used by more than 6,000 companies around the world. What has made Time Clock MTS so successful will be brought to the online version. It will be very simple to use to track your employee time and attendance data while being flexible enough to account for complex payroll, overtime and accrual rules. Online Time Clock MTS will use the same very simple to use time clock interface that Time Clock MTS use. This interface can be taught to your employees in just a minute or two and will help to minimize the on-going costs of using Online Time Clock MTS.
Being 100% web-based gives you some unique advantages over the desktop version of Time Clock MTS. Firstly, it can be used from any computer with a web browser, there's nothing you'll need to install or maintain on your computers. Secondly, you can use it from anywhere in the world, so if you have employees who work from home, or perhaps operations in different geographic locations then you can still use Online Time Clock MTS with no difficulties. Finally, being online means that you'll get access to improvements and bug fixes instantly and without you having to do anything.
How Much Will Online Time Clock MTS Cost?
Cost has yet to be finalized, but it will be dependent on how many employees you want to track and how many different locations you want to clock in and out from. Fees will be monthly, with discounts offered if you decide to pay for longer periods up front. Just like Time Clock MTS, though, there will be a free version of Online Time Clock MTS that will provide you with limited but still very useful employee time and attendance tracking.
When will Online Time Clock MTS be Available?
I'm going out on a limb here and going to say that Online Time Clock MTS will be available for free BETA use within 6 weeks. This will be with a fairly limited set of features but you'll still be able to track your employees time and attendance quickly and simply. As the BETA progresses we'll gradually add new features and make bug fixes as required. Once the system is truly useful it will transition to a commercial model. Loyal BETA testers will receive a period of free use during this time before they have to start paying to use Online Time Clock MTS.
Can You Suggest Features for Online Time Clock MTS?
Sure, just go ahead and use the contact us page to send in your suggestions. However, it's planned to largely map the features of the desktop version of Time Clock MTS to the online version. This feature set has been refined over a number of years by listening closely to our customers so you're assured of getting a system that is both useful and extremely easy to use.
What Are You Going to Need to Use Online Time Clock MTS?
A computer with any modern web-browser will be able to access Online Time Clock MTS. Currently we're supporting IE 6+, Safari 3+, Firefox 1.5+, Opera 9+, and Chrome 0.2+. All development is being conducted in IE 7, IE 8, Chrome 4, and Firefox 3.
Keeping Updated on the Progress of Online Time Clock MTS
It's easy to keep updated with what's happening with Online Time Clock MTS, just keep reading this blog! Alternatively, if you don't want to come back here just to check what is happening then please register your email in the box on the top right of this page. We'll email you occasionally with updates and with the release date of the BETA program.
That's a lot for a first post! Stay tuned for more updates on key concepts used by Online Time Clock MTS.
Posted by markn at 2:30 PM
---