Online Time Clock MTS Quick Tour - The Web Based Time Clock

Quick Tour - Reporting
Online Time Clock MTS is designed to allow you to use any computer or device with a reasonably modern web browser as an employee time clock station. This is useful for your business in the following ways:
Because your employees can clock in and out from their own computers or internet enabled devices.
You want to use several centralized computers distributed around your workplace as time clocks for each department.
Your business operates in two or more geographically separate locations and you want your employee time and attendance data recorded and processed centrally.
You have employees in separate timezones but still want your time and attendance data recorded to a single system and have timezone differences automatically taken into account.
Perhaps your payroll and accounting operations are not located where your time and attendance data is recorded. An online time clock system like Online Time Clock MTS allows reports to be run quickly and easily on the central data store containing the data collected from your web based time clock stations.
You don't want to be bothered with the time and costs of ongoing maintenance and support that installable desktop software usually requires.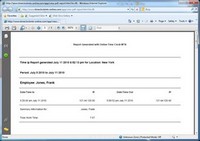 Online Time Clock MTS uses a world class database system on world class servers based in a managed data center in the USA. Your data is backed up several times a day and can be recovered in the unlikely event of a server crash in just a few minutes. It's your data, and if you need you can get a complete export of all your time and attendance data by dropping a quick email to our friendly support staff.
Your Online Time Clock MTS administrator is provided with a range of tools to control and monitor which computers employees can clock in and out from. You can, for example, restrict employees to clocking in and out using computers with only certain IP addresses. This will help eliminate buddy punching and stop employees from clocking in or out from home or even their cell phones! As a further measure of security Online Time Clock MTS records the computer IP address that an employee clocks in and out from and then you can view this data via a report.

Quick Tour - Reporting