Online Time Card Software
Online Time Clock MTS
use any computer with a web browser as an employee time card station
Sign up for a FREE 30 DAY TRIAL
Then from from just US$19 per month for 10 employees.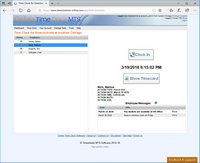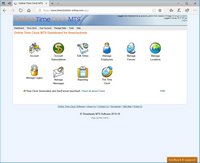 Online Time Clock MTS can be used free of charge for 30 days. Signing up for a trial account takes just a few seconds!
If you're not using a web based time card system then you'll find that you're costing your bookkeepers and payroll staff hours of wasted time while they tally up your employee time card data. Furthermore, you're probably finding consistent payroll errors, having continual heachaches with overtime calculations, and your employees are frustrated with on-going payroll issues. What's more, if you're using installable time card software you might be finding that your IT staff are bogged down supporting out-dated PC applications and burning up valuable hours talking with unresponsive software vendors.
You can use Online Time Clock MTS on any device or computer with a reasonably modern web browser to both record and report on your employee timecard information. Online Time Clock MTS can be setup to run from different timezones (known as locations) and it will handle all of the time zone adjustments for you. Your employees can clock in and out as many times as you like during the day using almost any web-enabled device and you'll find that Online Time Clock MTS can replace your cumbersome hand written timecard system or hard-to-support PC based timecard software. Your payroll department will love the fast and accurate timecard reports that can be generated for all of your business locations, they will especially like the completely up to date information the reports contain and the speed at which they can be run.