A weblog from the authors of Online Time Clock MTS, the cost effective online time and attendance software solution
November 16, 2015
After quite a bit of effort we've launched the Mobile Device Interface of Online Time Clock MTS today. This new set of screens is designed to be used by employees who need to punch in and out using a mobile device such as a smartphone, tablet, or cellphone. Each employee must be set up to access the Mobile Device Interface and once they have they can punch themselves in or out, view their own time card, or view a history of their own time punches.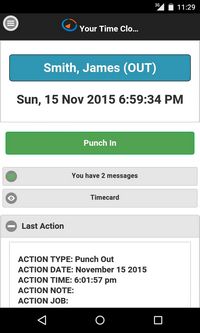 If you allow your employees to use the mobile interface each will have their own separate log in (their email address) and password. Once they are logged in they can only view their own time card information and punch themselves in or out. This is different to the desktop interface of Online Time Clock MTS which allows groups of employees to use the same login to punch in and out from a common time clock screen.
The mobile interface still allows you to track and record employee notes and time spent working on jobs. It doesn't require the employee to enter their PIN when punch in or out, and it also doesn't subject employees to IP Address access restrictions. Longer term we'll be adding geographical access restrictions to employees who use the mobile interface as well as logging latitude and longitude so you can see where they've been punching in and out from.
Other Changes
There have been a raft of other changes made to the system today. These have included various tweaks, updating of a lot of the back-end database code for improved performance, and some fixes to problems with the messaging system that were only seen on Internet Explorer. You'll also note that various reports might have the letter M in brackets after time punches ((M)) which indicates that time punch was made from the mobile interface.
Posted by markn at 11:56 AM
---
UPDATE 4:30PM PST - The system is now back online.
Online Time Clock MTS will be unavailable for 2-3 hours from 1.30PM PST on 15 November 2015 while we perform system upgrades. We'll post again here once we're back online!
Posted by markn at 7:11 AM
---
November 10, 2015
We've been hard at work in the last four months developing a mobile device interface for Online Time Clock MTS. Right now it's designed to be used by individual employees to be able to punch in and out, view their time punch history, and view their own time card. It's able to be used on any mobile device, such as Android smart phones, iPhones, and tablets of almost any type. We're just running through the last of the testing process this week and hope to make it available this weekend. Stay tuned for more news.
Here's some preview screenshotts
Posted by markn at 10:11 AM
---
June 19, 2015
A new release of the system was rolled out today that includes two major new features and a number of changes 'under the hood'.
Adding a Holiday
Paid Holidays
A Paid Holiday system has been added that is an almost a direct mirror of the system found in our desktop time clock software. Holidays can be managed from the Manage Data->Manage Holidays screen. Like most other things in the system the account administrator can create holidays that affect all your time clock locations and location administrators can create holidays that only affect their own location.
Create holidays to represent paid days off like Thanksgiving or Christmas Day. Holidays can be created for a specific date in a year, or can be marked as recurring if they happen on the same day each year. You can control if an employee gets paid holidays via their Payroll Information screen. You can also override the hours credited to an employee for a paid holiday on that same screen.
If an employee is eligible for paid holidays and a holiday falls within a reporting period then the employee will be credited a number of hours for that holiday. Those hours will not appear as a time punch on their reports. They will appear in the Payroll Summary section of the reports looking something like this:
Total Holidays: 0.00

The Holidays Affect Overtime Setting
In reports that break down the time worked by classification (like the time classification report) holiday time will be broken out into it's own column. Time allocated to holidays can affect overtime if required and this is controlled via the Holidays Affect Overtime checkbox on the Overtime Settings screen. If this box is checked and your weekly overtime limit is set to 40 hours and the week includes an 8 hour paid holiday then the employee will only need to work more than 32 hours (not including the Holiday hours) to be given overtime. If the box is not checked the employee would need to work 40 hours (not including the holiday hours) to be given overtime.
Salaried Employees
Online Time Clock MTS now supports salaried employees. Employees are marked as Salaried on their Payroll Information screen using the Payment Basis drop down. Their salary period and payment per period is set on the same screen. The accrued salary hours for a salaried employee is determined by the report period you run. So, if for example, you run a report for two weeks then a salaried employee will be allocated two weeks hours. The hours per week is determined by the Length of Work Week value on the Payroll Settings screen.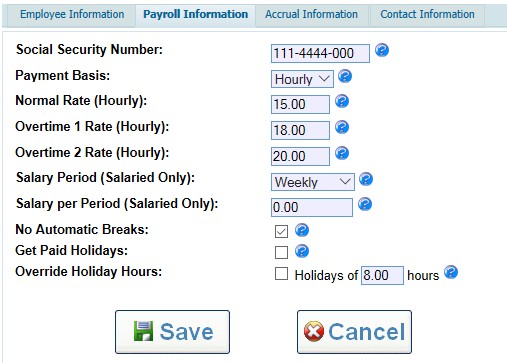 New Payroll Settings for Salaried Employees
Their pay is determined by what fraction of the report period is compared with their salary period and payment per period. So, if the report period is two weeks and their payment period is 1 week they'll be given two weeks pay. If, however, their payment period is annual they'll then be given 2/52's of their annual payroll.
The actual hours worked by salaried employees can of course still be logged and you'll still be able to see the exact hours they work on various reports (like the Punchcard Report). Note that the Payroll Summary section of reports for salaried employees will contain a couple of extra fields that show the accrued salary hours worked and the actual hours worked. They'll look something like this:
Salary Work Time: 108.57
Actual Work Time (Salary): 0.00
General System Improvements
We've fixed up a couple of minor issues with the time clock system, particularly in the area of permissions. There's also been a description field added to the Login Access Control screen to make those a bit easier to organize. Finally, there's also been a considerable amount of time bringing some of the backend code up to a point where it can be used to work with an Online Time Clock MTS interface designed specifically for mobile devices. That interface, is the next major update planned for the system.
Posted by markn at 9:27 AM
---
June 18, 2015
We've been working on an update to Time Clock MTS for several weeks now and it's about ready to be rolled out. The new update adds paid public holidays, salaried employees, some small changes to the IP address restriction features, and a bunch of code changes to speed things up across the board. We'll be rolling out the changes this Sunday, 21 June so the system will be unavailable for around 2 hours on that day from 4.30PM PDT. Further notification of the exact period of down time will be made prior to the day.
Documentation will be updated in the next 48 hours to account for these new features.
Downtime confirmed for 4.30PM PDT on Sunday 21 June. The system will be unavailable for 2-3 hours.
Posted by markn at 9:19 AM
---
November 13, 2014
We've just posted up a number of enhancements to the account login system. The key changes you might notice are:
Your account login name is now remembered and you'll automatically be be shown your company specific login page if you click on the "Login to Your Account" link that you can find at the top right of the website. Note that you'll have to have logged in at least once after these changes were made for this to take effect.
Sessions are now persistent across browser windows, so if you happen to close a browser window and need to get back into Online Time Clock MTS again then you'll be automatically redirected from your login page to your account dashboard. You'll be taken there directly too if you click on the "Login to Your Account" link that you can find at the top right of the website
If your session times out you'll now be taken back to your own account login page.
We've changed various settings to help your login sessions persist better and the timeout limit has been increased to 12 hours.
We've fixed up a small issue with the logout link so that cached account information is cleared correctly.
As always if you have any questions or issues with these changes please contact us.
Posted by markn at 1:16 PM
---
November 11, 2014
We've just posted a fix to the Working Hours Report. It wasn't handling the daylight savings roll-over of Sunday 2 November correctly. The problem is now resolved and I'd like to say thanks to the user who pointed out the issue!
Posted by markn at 11:17 AM
---
September 10, 2014
We've just rolled out some fixes addressing some very specific issues that have been noticed by a few users.
Inactive Chrome Tab Timing Issue
If you are using Google Chrome then that can cause some timing issues with the periodic update routines used by Online Time Clock MTS when it is in an inactive tab. The clock could drift by a few seconds every two minutes or so. This issue has now been addressed by automatic sensing of inactive tabs and adjusting server update speeds to account for it.
Extremely Slow Internet Connections Causing Startup Problems
If you have a slow internet connection, not just in terms of raw download speeds but the response speeds between our server and your computer then some startup issues could happen in the first few seconds after the time clock screen was loaded. We've only seen this on one computer that was taking upwards of 20 seconds to load the time clock screen. Fixes have been put in place to prevent this.
Form Rendering Issues with Google Chrome
An update to Google Chrome late last week caused some issues with the rendering of form fields. This caused a display issue with the Manage Logins screen and the IP address entry screen for login access control. This issue has been resolved.
Thanks to the kind Online Time Clock users who notified us of these issues and helped us resolve them and test the fixes. You guys are great!!
Posted by markn at 6:26 PM
---
August 20, 2014
The scheduled downtime for 1:30AM PDT on 20 August 2014 is complete. We've put in place some optimizations that should see some serious speed improvements for Online Time Clock MTS users with large employee lists. We've seen improvements in the the speed of refreshing the employee list on the time clock of the order of 95%. This should make for a better experience as well as removing considerable load to our servers. Thanks for your patience in this time.
Posted by markn at 6:30 PM
---
The Online Time Clock MTS systems will be down for a period of about 30 minutes at 1:30AM PDT on 20 August (tomorrow). This is to address some issues caused by an update of some of the software on our servers. Sadly the impact of the updates was out of our control and has been causing excessive CPU usage and slow response times for the last few days. After spending most of the last day testing and tweaking we've got a fix in place and will be rolling it out early tomorrow morning. Thanks (as always) for your patience during this time.
Posted by markn at 10:42 AM
---