Online Time Clock MTS Quick Tour - Mobile Devices
If your employees are on the road or working off site then Online Time Clock MTS provides a simple and easy to use time clock for each employee to access via their cellphone, smartphone, or tablet. Each employee who uses the mobile time clock has their own login and password, can only clock themselves in and out, and can only view their own time punch information.
Your time clock administrator must give permission for each employee to use the mobile system. Each employee can then log in with their email address and their own password.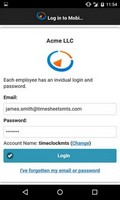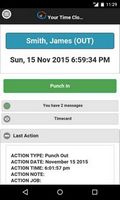 Employees can use their mobile time clock to punch in and out, record the time spent working on jobs, and leave notes with their time punches. All from their own smartphone or tablet while they are travelling or working off site. The mobile version also allows employees to view messages left for them by their managers, view their own time card and payroll reports, and access a history of their own time punches.
Employees are responsible for managing their own password but a full system is provided to allow your time clock administrator to force the change of a password, reset a forgotten password, or completely lock an employee out of the mobile time clock system if it is being mis-used.