Online Time Clock MTS can be used free of charge for 30 days. Signing up for a trial account takes just a few seconds!
Email Alert Screens
Want to know when that problem employee gets to work? Or perhaps if someone has arrived at work late? Or they've stayed longer than you'd like them to? Or even when someone is approaching overtime limits for the week? You can easily set up email notifications in Online Time Clock MTS to alert you in any of these scenarios or many more!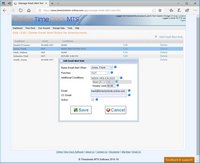 This screen is used to manage the conditions that will trigger the sending of an email alert to the email addresses entered.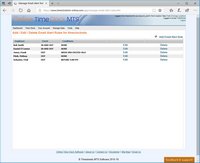 This screen is used to manage the rules that determine when an email alert is sent.